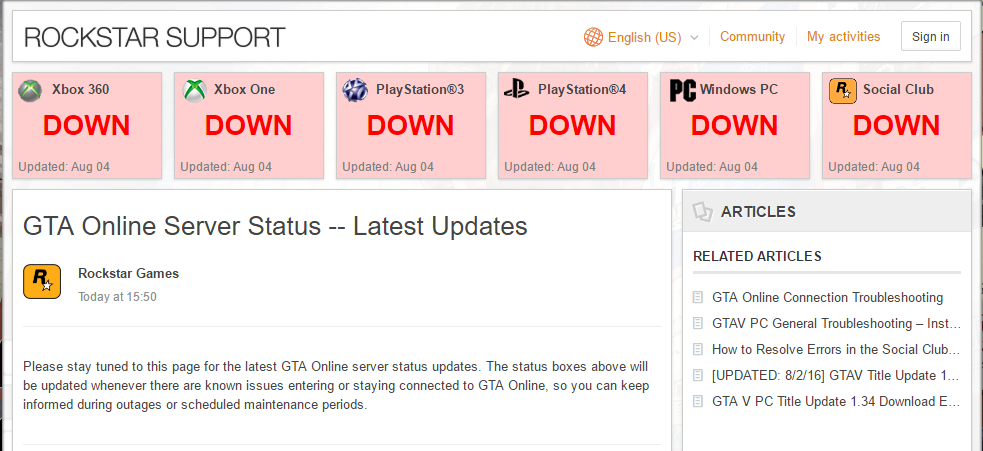 Rockstar Games' Grand Theft Auto Online servers were brought down on every available platform, for at least five hours, following an apparent distributed denial of service (DDoS) attack that hacker group PoodleCorp has claimed responsibility for.
Rockstar's live server status page marked services on PS4, Xbox One, PC, PS3 and Xbox 360 as being down before servers sprung back to life. On Twitter the Rockstar Support account has been telling users that they are aware of the problem and are working on a solution. They have not officially addressed whether or not the server problems have been due to a cyber -attack.
It would seem however, that they were. At around 5:30am BST the Twitter account for PoodleCorp revealed it had conducted a "small test on PSN" in preparation for a "much bigger attack". They laterclaimed responsibility for attacking the GTA 5 servers.
Earlier this month PoodleCorp claimed responsibility for an alleged DDoS attack on Pokémon Go's servers and later claimed responsibility for attacking Blizzard's Battle.net, and in turn its games such as Overwatch, World of Warcraft and Hearthstone.
By Ben Skipper
Source: http://www.ibtimes.co.uk/gta-online-servers-down-poodlecorp-hacker-group-claims-ddos-attack-1574367